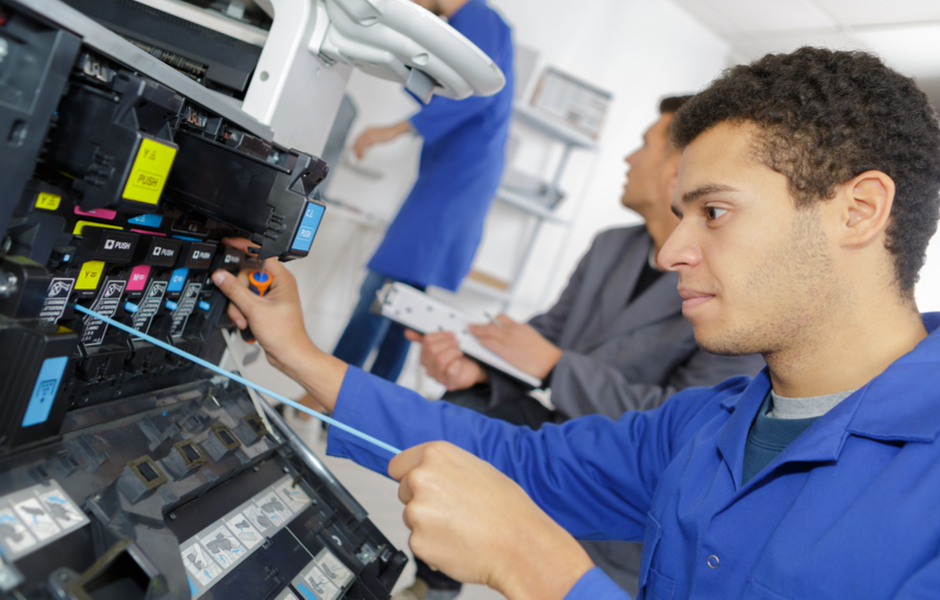 As a responsible copier-owner, it's your job to know how best to care for your hardworking machine. Unfortunately, as copiers get more technologically advanced, it becomes difficult to know exactly what's going on--so here are a few of the most common things that make your copier malfunction.
Happy Copiers Make Happy Businesses
When your copiers are in tip-top shape and operating perfectly, your workflows flourish. You get more done than ever before, you don't waste time or money, and all of your communication is clear and simple. When copiers malfunction, on the other hand, all kinds of problems can arise: interrupted workflows, wasted time, confusing communication, and, of course, the stress and scramble of finding someone who knows how to fix the machine. Downtime isn't good news for anyone--so copier maintenance and good copying habits should always be a priority in your business.
The Big Question
So, why do copiers malfunction? How can you avoid these issues? Here's a quick look at the facts!
#1: The copier is overworked.
If you're pushing your copier to work outside of its maximum print volume, you're going to end up with a machine that doesn't last as long and doesn't copy very well. Generally, it's a good idea to stay within recommended print volumes for your device--and if you can't, it's probably time for an upgrade.
#2: The copier is overlooked.
Oftentimes, huge copier issues don't just "happen;" they start small and then get bigger as people put them off. Don't let a little issue become a huge hassle. Instead, use proactive repair and maintenance measures to keep your copier healthy and happy.
#3: The copier is abused.
There are a lot of ways to "abuse" a copier, but one of the worst habits you can get into is using low-quality or improper consumables. The wrong type of paper can harm your copier--and when it comes to quality, remember you get what you pay for.
Is your copier malfunctioning? Could it be time for an upgrade? contact us today!