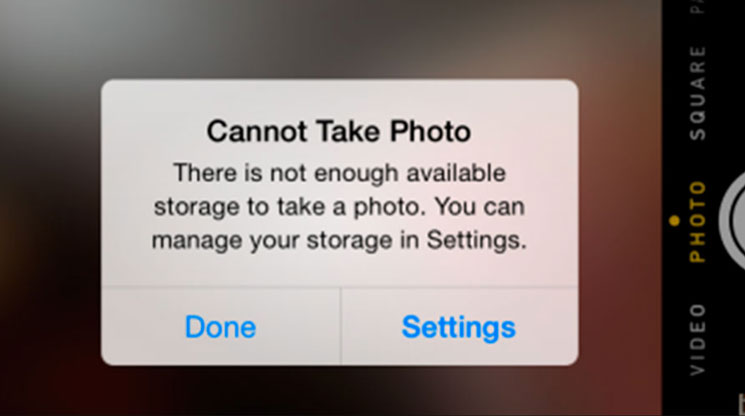 You just took a great photo and it wouldn't save to your phone because your storage is full. Sound familiar? If so, here's what you can do.
Tips for Anyone:
See How Much Space Your Photos Are Taking Up
If you find that photos are the main culprit of your limited space, consider placing them somewhere else. You can connect your phone to a laptop or desktop and save them on a flash drive or external hard drive. You can also store your photos on Google Drive or Dropbox for easier access from your phone.
Give Your Apps the "Sink or Swim" Test
When was the last time you used the app? Do you find it useful, or have you stopped using it due to a bad update? If you haven't used the app in over three months, it's time to delete it from your phone.
Tips for Android Owners:
See If There Are "Lite" Apps Available
Apps like Facebook, Spotify, and Instagram might be taking up a large portion of your storage. For more popular apps, developers usually offer "lite" versions of the app, just for Android devices, that contain fewer features. You can also save the amount of data you use to download these. Simply go to the Google Play store and put "lite" next to the app you would like to download.
Dial *#9900# If You Have a SAMSUNG Device
This will bring you to an internal menu. You'll then see a button that says, "Delete dumpstate/logcat." This will help determine whether or not you are truly out of storage. 
Install a New SD Card
Some Android phones come with expanded storage options thanks to an SD slot. If your phone has this, it's as simple as finding the correct storage size and format SD card to fit your phone.
Tips for iPhone Owners:
Turn Off Photo Stream
If you have any other iOS devices and this is turned on, it means that photos from any device logged in to your Apple ID will be available. Turning this off may help you save storage if you have photos stored on an iPad or MacBook.
Check Your Third Party Apps
If you notice that you have lots of storage being taken up by a particular app, it may be due to caching or other storage related issues. This is common for many third-party messaging apps like GroupMe or WhatsApp. Go into these individual apps to see if there is any way you can delete your cache or storage.
Clear Out Your Text Messages
If you've had your iPhone for a while, you might notice that your messages are taking up a significant amount of space. To clear up some, simply go to the settings app and select Messages -> Message History -> Keep Messages. You can then choose to have messages deleted either one year or 30 days after they were sent to you.
Content Sponsored By:
3M